Welcome to my Instant Pot Recipes and more specifically 101 Instant Pot Recipes For The Complete Beginner.
I wanted to put something together that would help those of you that are just starting out with their Instant Pot and want easy to follow Instant Pot recipes that can get you started.
When you first get an Instant Pot it is like you are that teenager that is learning to cook for the first time. It is something new and you are often having issues with it and its quite a scary experience.
But I notice that far too many people don't start at the beginning, instead they jump straight in with a complicated recipe. Yet if you were a child your parents wouldn't let you loose with filleting fish, they would really make you peel loads of potatoes with an old potato peeler.
So that is exactly what you should do with your Instant Pot. Start right at the beginning. Learn how to use the Instant Pot from scratch and learn the bare bones of cooking before you advance to complicated desserts or things that most of us don't cook until we have been cooking for a decade.
Is Your Instant Pot STILL Sat In The Box?
If this is YOU don't worry it is a lot more common than you think. Because electric pressure cooking can be so different to what you are used to it can feel very daunting and it might be sat in the box for months.
I find that when I read story after story about ruined Instant Pots because they have burnt their food or they have not added the right amount of liquid, it can put off all future Instant Pot users.
Or from my point of view I always remember the mushy peas on the ceiling whenever I went round to my Grandmas for dinner. But those were the old style pressure cookers that sat on the stove and things have improved a lot since the 1980's.
With the Instant Pot recipes below I have covered all the basics to get you started in the kitchen and build up your confidence with your Instant Pot. Do things step by step with something different every day or so and you will soon be a pro and wonder why you left your Instant Pot sat in its box for so long.
Instant Pot Basic Beginner Recipes
To get started with your Instant Pot how about some really basic recipes that we all can cook away from the Instant Pot and then converted to the Instant Pot you will think "this is easy" and then progress to other recipes after these ones!
The Water Test – It should always start with doing the initial water test to make sure your Instant Pot is working properly. Though in my mind it is also a great way to get used to all of its functions and build up your confidence!
Instant Pot Broccoli – This is actually the first thing we cooked in our Instant Pot as we wanted something safe that we could test out first and we were amazed by how good the broccoli tasted and how quick it was.
After broccoli why not progress to some new potatoes with this easy to follow Instant Pot recipe?
Or how about serving up your meal with some rice? Follow the how to guide here on how to make the perfect pressure cooker rice.
We also recommend this how to post showing you exactly how to convert a slow cooker recipe into an electric pressure cooker one. Or use this guide to get a better understanding of using your pressure cooker.
Boiled Eggs – One of the first things you should learn to make in your Instant Pot is eggs. They make it so easy and make egg timers a thing of the past. Follow our eggs post to learn how to make traditional boiled eggs that can be turned into egg mayonnaise or our soft boiled eggs for boiled eggs and soldiers.
Or another favourite of mine is to get into the yoghurt making craze with this super simple yoghurt and fruit.
One of my favourite side dishes to make in the Instant Pot is asparagus wrapped in bacon. It is delicious, ready in a few short minutes and perfect for while you are waiting for your dinner in the oven.
Here are some other great side dishes while you practice how to use the Instant Pot:
Instant Pot Super Easy Healthy Recipes
I love eating healthy and that is a big part of it when it comes to buying an electric pressure cooker. You can now eat healthy without it taking a long time and being a drain on you.
Kick starting it is my salmon, broccoli and potatoes. A simple delicious lunch that is perfect for when you want something quick that is also nutritious. Oh and did I say the whole dish is cooked in just 4 minutes?
Or how about a tray bake made with summer cherry tomatoes, green olives and chicken?
Here are a few other of our favourite healthy Instant Pot recipes:
Instant Pot Vegan Recipes
I love my meat but I also love vegan recipes too. I know the two really shouldn't go together, but I love to be different! I was once a vegetarian and even though my husband introduced me to meat I do love to have a few healthy vegan days. This section is dedicated to them 🙂
Lets start with a delicious vegan chilli made with lentils instead of minced beef. It is made quickly in the Instant Pot and tastes delicious.
Or how about Kalyns Mexican Beans with Avocado for a great easy mid week dinner treat?
Here are some vegan recipes for you to get excited about cooking in your Instant Pot:
Instant Pot Soup Recipes
I love soup but sometimes soup can be really boring. It will be like something that is only meant for the cabbage soup diet and can be a complete turn off. But what about some delicious hearty soups that don't say baby food that you can cook in your Instant Pot?
Starting with a butternut and cauliflower soup that shouts out "EAT ME NOW" from Peas & Crayons. Or over at Kalyns Kitchen a delicious courgette and butternut squash soup.
Here are some more delicious soup recipes for you to test drive in your Instant Pot:
Instant Pot Super Easy Potato Recipes
After the basics nothing beats a potato does it? We all love potatoes and the humble spud can be very versatile. We go through 2 large bags of spuds a week and it makes cooking very frugal. You just add potatoes to a small dish of food and all of a sudden you have a great feast.
Here are a few of our potato favourites:
Plus we had to give a special mention to these delicious sweet potatoes from Add A Pinch. They remind you why you need an Instant Pot and how much easier they will make your home cooking.
Or from Hip2Save with their pressure cooker potato salad.
Instant Pot Super Easy Chicken Recipes
OMG I just love cooking chicken in the Instant Pot and so simple you will be angry that you hadn't been cooking in an Instant Pot years ago!
Starting the chicken recipe countdown lets have some Mediterranean chicken wings. These are cooked in silver foil meaning that the washing up in minimal so if you are scared of cooking in your Instant Pot (and possibly burning it) then this can get you started!
101 #InstantPot #Recipes For The Complete #Beginner via recipe_this
Click To Tweet
For more silver foil cooking try our chicken tikka bites. They're easy to make and give a touch of India to your Instant Pot. Or for some more Asian food why not try my peanut free Thai chicken satays.
I am also addicted to coconut butter in my cooking at the moment and love the idea of making a delicious chicken and potato combo like in this recipe.
Go frugal with this delicious liver and onions recipe. I always find liver to be like rubber but thanks to the Instant Pot this chicken liver recipe no longer tastes cheap.
Or there is our delicious orange chicken that we featured on our podcast at the start of the year.
Here are some other great chicken recipes to try out in your Instant Pot:
Instant Pot Super Easy Beef Recipes
Now let's start the beef Instant Pot recipes with some delicious beef shredded tacos. They shout out to your guests that you have spent hours in the kitchen, yet you secretly know that it was done in an instant!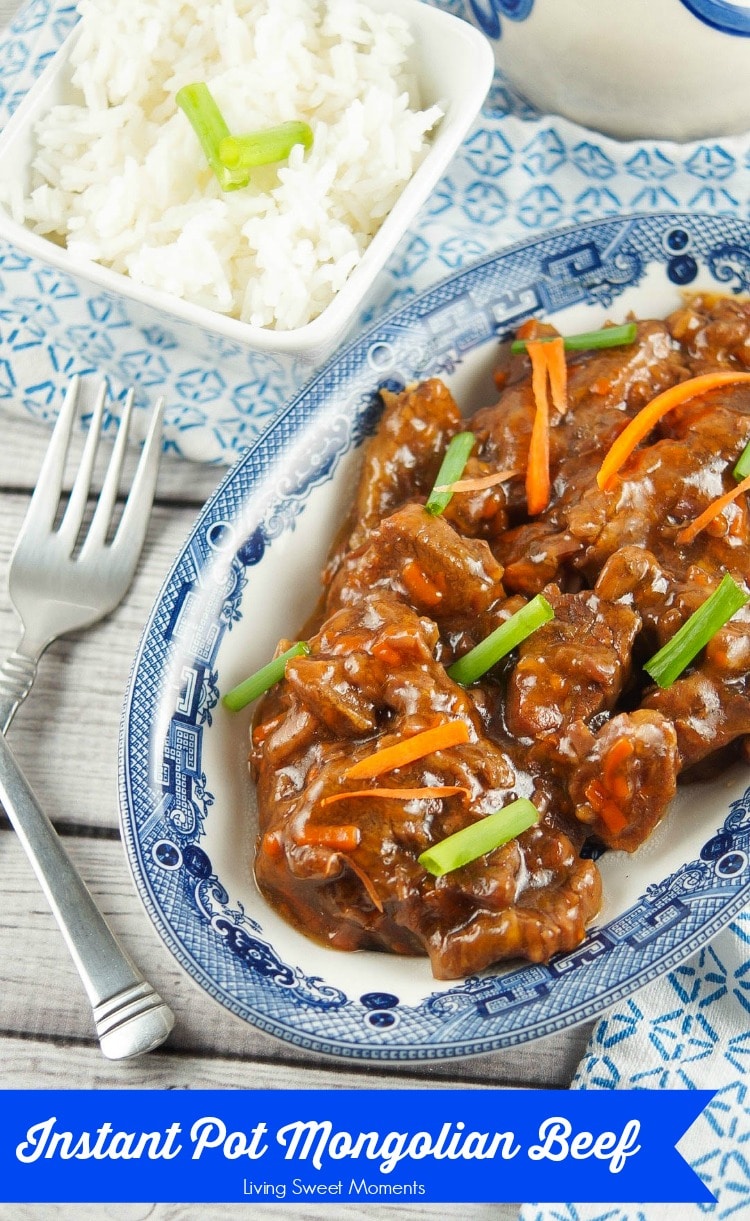 Another great beef recipe is this melt in your mouth Mongolian Beef in the Instant Pot from Living Sweet Moments and a great way to use up your leftover beef.
Or a third favourite of mine is this Homemade Beef Pho – we all love Asian food so why not have some of this? Plus it would make a great meal for a date night for you and your partner.
Here are some other great beef recipes to try out in your Instant Pot:
Instant Pot Super Easy Family Recipes
We are a family of five. We have a teenager, a toddler and a baby to feed on a daily basis. This means we love easy family recipes that is perfect for cooking if you are in a rush and don't have much spare cooking time.
These family recipes for the Instant Pot are ones that we have created that have easy home cooking in mind.
Nothing says home family cooking more than a delicious hearty soup and this cheese burger soup in the Instant Pot is absolutely delicious. Full of flavour and even the grown ups will argue over who gets the last dishful.
Another family favourite of ours is pork roast and we now love to enjoy this in our Instant Pot. Or alternatively use pork in the Instant Pot to make delicious pulled pork sandwiches. It makes it even more tender than usual and is one of the main reasons we fell in love with the Instant Pot.
Some other great family recipes that make meat super tender in the Instant Pot include:
Or for some other great family recipes for the Instant Pot try these:
Instant Pot Easy Desserts
The Instant Pot wouldn't be the same without the love of everything sweet. Whenever I check out Instant Pot recipes online there is always plenty of delicious cheesecakes, popcorn, steamed puddings and cakes to get your sweet tooth involved in!
First on the list is this delicious key lime pie. It is perfect for pudding after your Sunday dinner and the author makes it look so easy.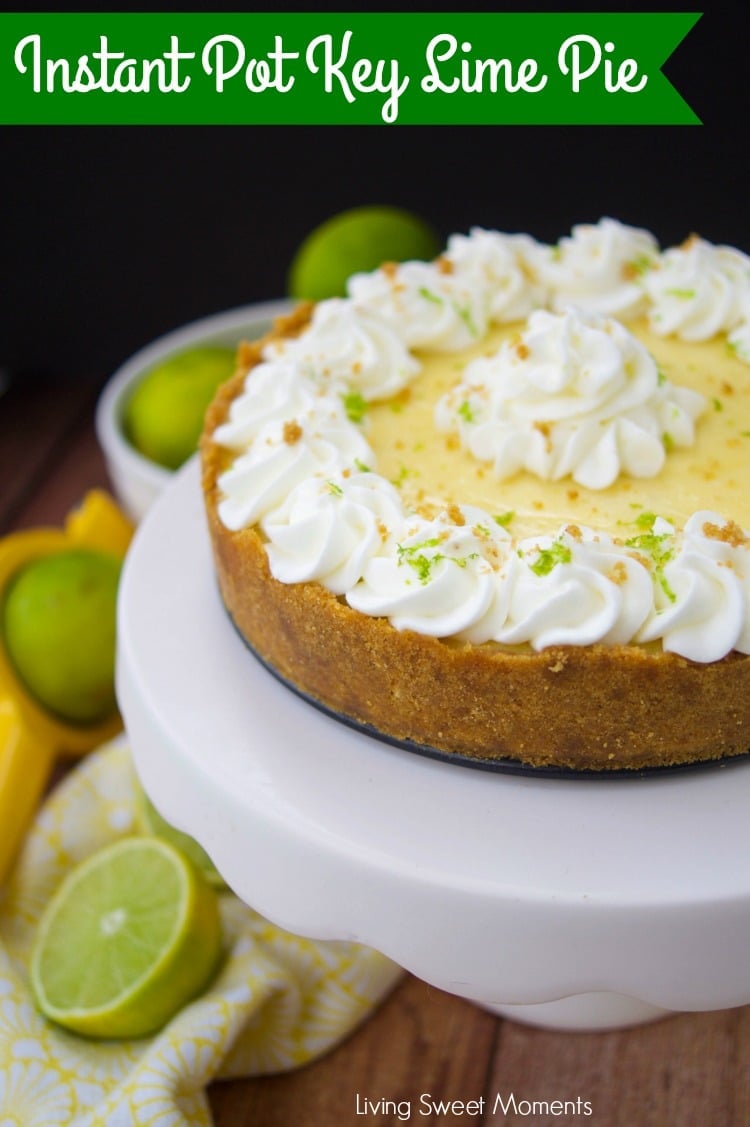 Now here is a thought – sugar free and crustless cheesecake in the Instant Pot. Now I have read this I am full of loads of ideas of how we can make healthy desserts!
Some other great dessert recipes for you to try out in your Instant Pot include:
---
Thanks for reading all about our favourite beginner Instant Pot recipes and we hope that we have inspired you to get your Instant Pot out of the box, complete the water test and get cooking in your Instant Pot.
We are all new once and once you get into it you will love the freedom of cooking in the electric pressure cooker. The Instant Pot that we own is this one and it has been amazing for loads of family friendly meals. Or you can read our review here.
If you would like to get all the recipes from RecipeThis.com that was featured in this round up, plus other useful information and help for getting started then click on the image above. Or you can order it by clicking here.
We wanted to offer something that was altogether in one ebook and would be easy for you to transfer to your mobile or to your tablet and then use in the kitchen. THIS IS IT!
It includes our water test, our steamed broccoli, how we make desserts in the Instant Pot and so many more. Whether you want an Instant Pot to be healthy or be unhealthy, then we have them all for all of you!
Also don't forget to let us know how you get along with the recipes and how you are finding using the Instant Pot.